Overview
Smash Karts Unblocked allows you to enjoy the chaotic and wildly entertaining kart racing battle game Smash Karts directly in your web browser. The game differentiates itself from typical kart racers with a major emphasis on combat. As you steer and drift your way through vibrant, imaginative tracks, you can pick up and use explosive weapons and ability power-ups to take down your fellow racers. Powers like missiles, oil slicks, shields, and mines add unique strategic elements and frantic action to the races. Smash your opponents off the track using these abilities, but stay alert, as they'll be coming for you too! Be the first to cross the finish line after wiping out your competition to win races and unlocks. With charming graphics, physics-based driving, and deep customization options, Smash Karts Unblocked delivers unconventional kart racing excitement.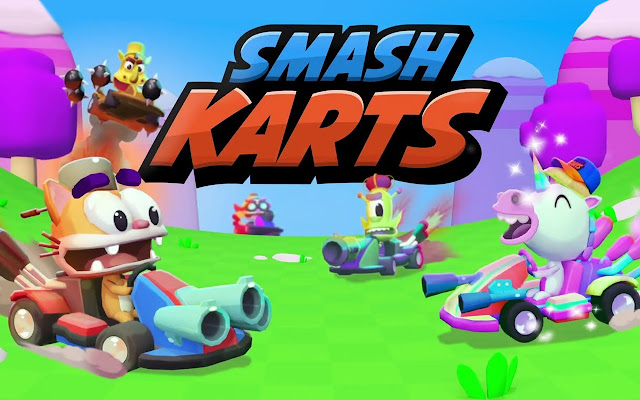 How to Play
Use acceleration and steering to navigate tracks.
Drift and powerslide around tight corners.
Pick up weapons and ability power-ups during the race.
Use power strategically to take down opponents.
Be the first to cross the finish line to win the race.
Tips & Tricks
Memorize track layouts; know the best routes.
Save stronger powers for key moments.
Use oil slicks and mines strategically on corners.
Don't neglect drifting and power-sliding techniques.
Knock out racers early to build a lead.
Analyze opponents' powers to counter them effectively.
Gameplay
The racing gameplay in Smash Karts Unblocked has you competing against other karts controlled by the computer or human players online. You'll need to master accelerating, steering, drifting, and power sliding your kart around the creative tracks. As you race, weapon and ability power-ups will appear that you can pick up to gain an advantage. These powers include:
Missiles: Lock on and fire homing missiles to smash into opponents.
Oil Slicks – Dump oil on the track that makes opponents spin out.
Mines – Plant explosive mines that launch karts into the air.
Shields – Generate a shield to block attacks for a short time.
Boosts – Gain a burst of speed for quick getaways or catching up.
Using your powers at the right moments is key to outpacing and eliminating the competition. You'll need to study the layout of each course in order to optimize using the powers. Memorize where tight corners, hazards, and jumps appear so you can catch opponents off guard and gain the upper hand!
Release
The game first raced onto browsers in 2020, giving students and office workers access to a Mario Kart-style kart racer that could be played on locked networks and devices.
Breaking Down Barriers: Unblocked Access to Smash Karts
Don't let limitations hold you back from the racing frenzy you crave. With Unblocked Smash Karts, the tracks are open, the challenges await, and the thrill knows no bounds. Step into the driver's seat and navigate through a whirlwind of action-packed tracks and smashing competitions.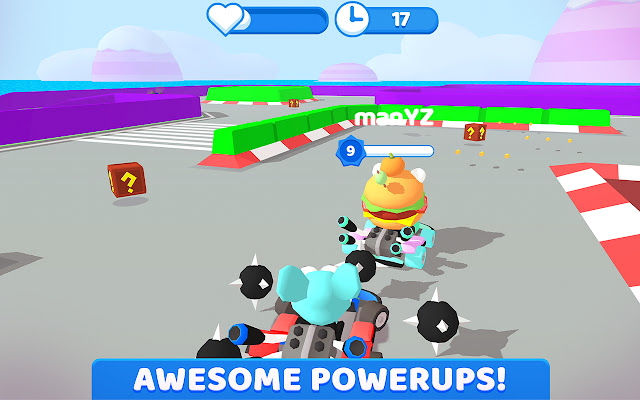 Unleash the Karting Mania: Unveiling Smash Karts
Meet the ultimate gaming adrenaline rush: Smash Karts! With its combination of racing and fierce battles, this game promises a gaming experience that's both exhilarating and addictively fun. Are you ready to rev up your engines, master power-ups, and outsmart your rivals on the track?
Race, Smash, Repeat: The Thrill of Smash Karts IO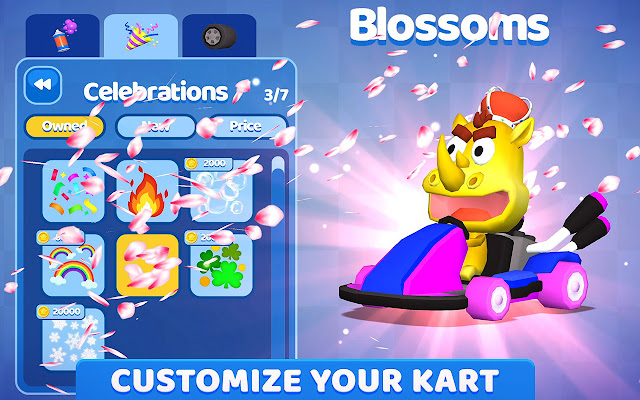 Engage in fast-paced races while unleashing chaos upon your opponents in Smash Karts IO. Whether you're a cunning strategist or a speed demon, this game caters to every type of player. It's not just a race; it's a showdown where tactics, speed, and skill collide.
Become the Ultimate Smash Kart Champion!
Are you ready to embrace your destiny as a true Smash Kart champion? Master the art of driving, navigate treacherous terrain, and deploy power-ups strategically to outmaneuver and outscore your opponents. Your journey to the top of the leaderboard starts now!
Connect and Compete: The World of Smash Karting Awaits
The thrill of Smash Karts is best enjoyed in the company of fellow racers. Join the vibrant Smash Kart community, share tips, and engage in friendly competitions. Connect with like-minded enthusiasts who share your passion for karting, and let the races begin!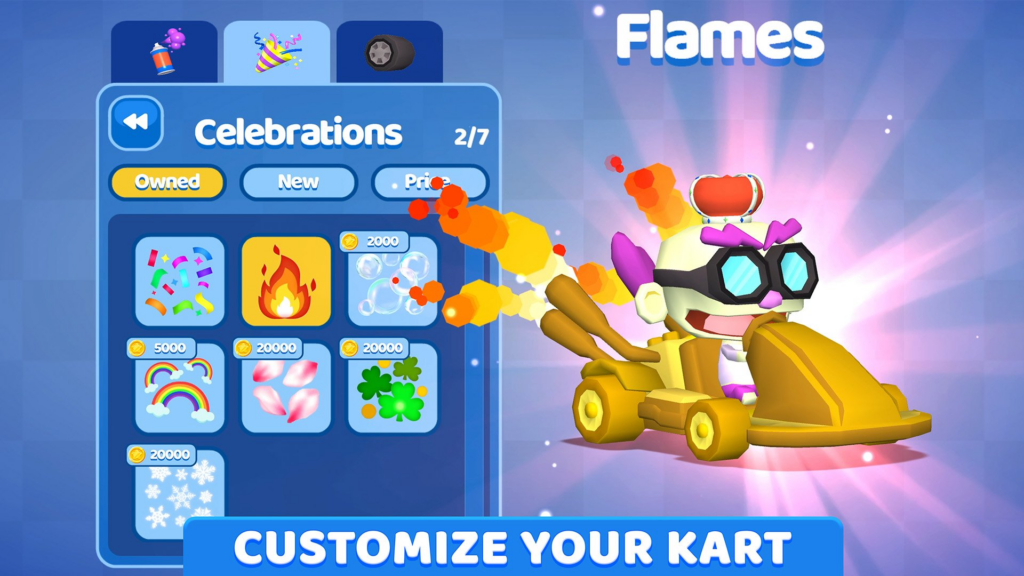 Rev Up and Conquer: Embrace the Smash Kart Adventure
From unblocked access to premium races, Smash Karts offers an unforgettable gaming adventure. Get ready to race, smash, and conquer your way to victory. With every twist and turn, victory is within reach—it's time to claim your place in the world of Smash Karts! 🏁🎮